Hi Lovely,
Earlier this year, my team and I had to spring into action when COVID-19 restrictions caused face-to-face events to suddenly become a definite no-go…
None of us could have prepared for the world changing the way it had…
But we came up with a plan to completely change the way we run our events, and shift them from in-person to virtual.
We did a ton of research, trialled a bunch of different options, and eventually found a virtual platform that we love.
Now I still enjoy having face-to-face contact, but I've been amazed at the level of connection that we've been able to achieve online.
In some ways, virtual events can be even better…
Our first virtual retreat sold roughly 5x as many tickets as its face-to-face counterpart…
And since our first one, we've successfully planned, filled, and run another 10 events.
Curious about which virtual events platform won my heart?
I chose an all-in-one live online tool called Hopin – catchy right? – to transform our events from in-person to virtual.
Learn how to host a professional, memorable, and profitable virtual event today! Find out more here.
Here's what my team and I love about it:
It's easy to set up…
Hopin's layout is beautiful and user-friendly… simply drag and drop your logo and set your colors to customize it to your branding.
Our virtual events literally take minutes to set up by following 3 easy steps:
Enter the event details
Create the schedule
Go live!
The one-time registration process is super-easy for our attendees and they don't have to provide reams of information to complete it…
And once their details are captured, they don't have to re-register for future events.
Hopin records the entire event so we can send attendees a replay…
And its reporting feature gives us everything we need to evaluate success, so we can plan and forecast for the future.
We've found Hopin to be really stable and haven't experienced any glitches so far.
It's user-friendly
We can live stream all the presentations, discussions, and networking that we would usually have at our in-person events…
And it's simple to navigate.
Hopin offers five areas that have made our events super sleek and sophisticated!
Reception
The Main Stage
Break Out Sessions
Networking
Event Expo
We use all five areas for our retreats but you can mix and match whatever you need.
We use the Reception to welcome our guests, post the event schedule and speakers, and to keep the pre-event excitement up…
The 'Main Stage' to stream the keynote, where guests can interact and ask questions in the chatbox….
Sidebar: Hopin can support up to 100,000 viewers, so keep on building your list Lovely Lady!
'Break Out Sessions' are where guests can jump into different rooms to hear different experts…
The 'Networking' area is where guests get to meet over virtual cocktails… more on that in a second…
The 'Event Expo' is where attendees can jump into virtual 'booths' to ask product-specific questions.
And the 'Support Booth' is where attendees can get tech support stat!
Clever networking tools
Networking has always been such a valuable part of my face-to-face events…
I love that our Girlies get to meet one another and share their stories.
So many of them have become accountability partners and personal friends 🙂
I didn't want them to miss out on this opportunity to connect, so finding a virtual platform where they could still mix and mingle was a must-have.
Hopin's networking area kinda reminds me of speed dating!
When someone enters the Networking area, they get randomly matched with another guest….
So they don't just talk to the people they already know because it feels safe and comfortable.
If they decide to exchange contact details they just hit the "Connect" button and voila… details sent!
No more exchanging business cards to gather dust…
And all their connections are neatly saved on a page in their Hopin profile.
If you want to be more strategic about the matching process, Hopin can match guests based on what they've filled in on their profiles…
There's even a virtual "cocktail party" feature that lets you meet through video call…
'Cause what's a virtual retreat without a cocktail? 😉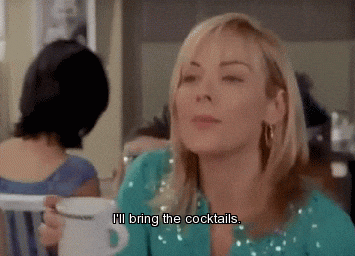 Conclusion
We've had such amazing success shifting from in-person to virtual events…
And Hopin has made it all possible… which is why I love it so much!
You know I like to save you the time and hassle of wading through multiple options…
There are so many virtual event platforms out there, but this is the one that's worked for me and my team….
And now you know why 🙂
If you decide Hopin is the right virtual platform for you too, use this link so they'll know we sent you over.
Here's looking forward to many more virtual retreats where we can stop dreaming and start doing together.
xx
Grace
Need some help to plan your virtual event? You can copy my 6-figure virtual event system… even if you've never run an event in your life! Find out more here.
P.S. What do you love (or hate) about virtual events? Please let me know by commenting below.